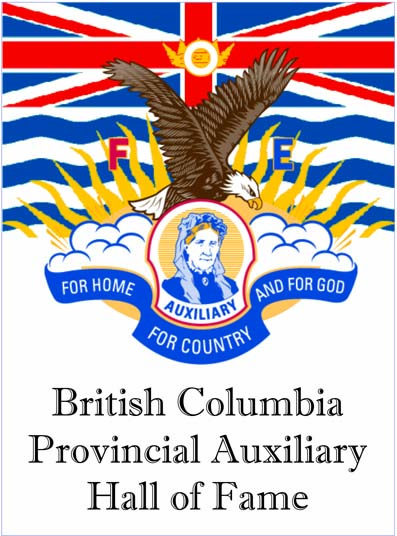 The British Columbia Provincial Auxiliary Hall of Fame was established as a tribute to Sisters in our province, both past and present, who exemplify service and dedication to our Order. Inductees are announced in session at the Provincial Convention in June. Names of those who have passed on appear bolded in the list below.
Auxiliaries should submit their candidates' names to Hall of Fame Chairperson Charleen Proznick, PPMP, as much as possible in advance of the June Provincial Convention.
You can contact Sister Charleen by phone at 250-376-4163 or by e-mail at proznick@telus.net.
Photo
Name
Auxiliary
Induction Year
 

Bailey, Beverly "Bev", PWP
(1946-2018)

Prov. Madam VP/P-E
2017

Vancouver #2075
Init. 1974
2016
Battie, Helen
Ladysmith #2101
2017
 

Blom, Yvonne, PMP

Prov. Madam President
1994-1995

Maple Ridge #2831
Init. 1975
2013
 

Day, Bernice, PMP
(1925–2010)

Ten-Year Past Prov. Madam Treasurer
(1988-1998)

New Westminster #20
Init. 1956
2007
 

Ferguson, Mable, PMP

(1922-2013)

59-year member
(at time of induction)

Charter Member
Trail #2838
Init. 1949

Madam President
1956-1957

Prov. Mother
1986-1987

2008
 
Fletcher, Angie
(1946-2015)
Ladysmith #2101
2016
 

Gjestrum, Vera, PMP
(1937-2019)

Past Prov.
Ten-Year Madam Treasurer

1999-2009

New Westminster #20
Init. 1983

Madam President
New Westminster #20
1992-1994

Ten-Year Madam Secretary
1997-2007

Prov. Madam
Ten-Year Treasurer
1999-2009

2009
 

Howarth, Bridie E., PMP
(1930–2012)

Prov. Madam President
1988-1989

Abbotsford #2726
Init. 1967

Madam President
Abbotsford #2726
1968-1969
1969-1970

2012
 

Hunter, Clara, PMP
(1921-2012)

Prov. Madam President
1976-1977

Ladysmith #2101

Init. 1959

Madam President
Ladysmith #2011
1970-1971

2008
 

Irvine, Pat, PPMP

Prov. Madam President
2006-2007

Ladysmith #2101

Init. 1983

Madam President
Ladysmith #2011
1994-1995

Chemainus-Crofton #4400
1999-2000

2009
 

Kennelly, Lisa, PPMP

Prov. Madam President
2007-2008

Cranbrook #3032
Init. 1984

Ritual

2017
 

Knight, Mae, PMP
(1925-2012)

Prov. Madam President
1960-61

Ladysmith #2101
Init. 1949
2006
 

Lenarduzzi, Bess, PMP
(1926-2006)

Prov. Madam President
1971-72

Trail #2838
Init. 1957

PNWRMP
1973-1974

PGMP
1983-1984

Grand Auxiliary
Hall of Fame
1992

2006
 
Marcin, (Florence) Dorothy
(1915-2007)

Campbell River #3097

Init. 1979

2008

Martin, Lynn

Maple Ridge #2831

2018

May, Edith, PMP
(1945-2016)

Prov. Madam President
2011-2012

Victoria #12
2018
 

Millette, Rita, PMP
(1949-2014)

Provincial Mother
2009-2010

Maple Ridge #2831
Init.

Madam President
2003-04
2009-10

2016
 

Monaghan, Florence "Flo", PPMP

Prov. Madam President
1999-2000

New Westminster #20
Init. 1967

Madam President
New Westminster #20
1976-1977

2012
 

Morgan, Felicia Marian
(1927-2011)

Nanaimo #15

Init. 1948

Charter Member
Chemainus-Crofton #4400

2014
 

Mortimer, Sadie
(1922-2015)

Maple Ridge #2831

Init. 1968

2014
 

Nance, Phyllis, PMP
(1943-2013)

Prov. Madam President
1991-92

Nelson #22
Init. 1977

GMIG 1996-97
GMCND 1997-98
GMTRS 1998-99

2014
 

Radford, Ruth, PMP
(1898-1982)

Prov. Madam President
1951-52

Ladysmith #2101
Init.
2007
 

Reason, Nora, PMP

Prov. Madam President
1958-1959

Maple Ridge #2831
Init. 1949
2014

Sauvageau, Nancy

Ladysmith #2101
2018
 

Slubowski, Mickie, PMP

Prov. Madam President
1995-1996

Rossland #10
Init. 1977
2007
 

Torrance, Carol, PPMP

Prov. Madam President
1998-1999

North-West #2638
Vernon #3557

Init. 1985

2016
 

Turek, May, PPMP
(1936-2006)

Prov. Madam President
1996-1997

Vernon #3577
Init. 1963
2008
 

Vipond, Linda, PMP

Prov. Madam President
2009-2010

Maple Ridge #2831
Init. 1978

Madam President
Auxiliary #20

Madam President
Auxiliary #2831
2013-14

2013
 

Wilson, Maureena, PPMP
(1948-2013)

Prov. Madam President
2010-2011

Campbell River #3097
Init. 1979
2012